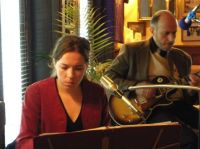 Easy Like a Sunday Morning
Apskatīt komentārus (0)


18.05.2011


---
Mary Ann Harvey

Easy Like a Sunday Morning
Hudson River Sampler (ND) - April 2011
Sunday mornings are too relaxing, right? Even God took Sunday off.
So should we too, after church of course. That's what sunday brunch is for - and a cool jazz brunch is best.
We could meet down at The Rhinecliff, the beautifully restored historic hotel on the Hudson River's edge in the tiny hamlet after which the hotel has been named. It's brunch-time and the jazz is mellow. As Lionel Richie says it's "Easy like a Sunday Morning."
You'll be able to enjoy one of the finest jazz duets ever. Māra Stepe on keyboards and Steven Merr playing guitar
raise Easy Jazz up to a new level of "cool."
Starting with a rendition of Etta James' song "A Sunday Kind of Love," singer and keyboardist Māra sets the mood instantly.
Playing piano since she was six-years old, Māra consistently plays her heart out. "This is my love," she says. She is also an artist, painter and bartender (at The Rhinecliff), but she says music is life itself.
"She loves to sing," said her friend Robert Jameson, who works in television production. And was recording the session for eventual publication on her website. He added, "She's got it -- whatever it is." It is evident in her performance and her enthusiasm.
Her father, Uldis Stepe, explained how all three of his children were introduced to music, specifically piano, when they were very young and living in California, but only Māra continued it and made it her life's mission. "She's very talented," her dad added," and disciplined."
To the strains of Dionne Warwick's "Walk On By." Māra's warm, clear tones made Sunday brunch so much more special for the guests. "We like the intimate setting here," guitarist Steve Merr pointed out. He's a forensic psychologist by day and also plays with a six-piece band by night, his avocation. Steve was backing up another singer when bartender Māra asked if she could sing one song with them. Instant sensation! And they immediately formed a new duet. A recent Sunday brunch at The Rhinecliff was their first public performance together, but you would think they had been together for years, The chemistry is genuine.
Stan Getz would be proud of Māra's version of his song "The Girl From Ipanema." As would George Gershwin of her rendition of his much-sung "Summertime and the Living is Easy." The song selection goes on and on because the duet is so talented and makes it look easy.
James Chapman, owner and Innkeeper, initiated the Sunday Jazz Brunch as part of the culture of The Rhinecliff soon after its grand reopening in 2008. It's been voted the "Best Jazz Brunch" in the hudson valley, and it definitely is.
Interesenti mīļi aicināti uz Māras Stepes koncertu Rhinecliffviesnīcā š. g. 1. jūnijā no plkst. 11 līdz 15 Jazz Brunch Sunday laikā.
vārds: